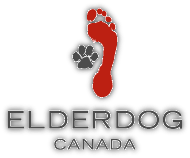 ELDERDOG is a Canadian Non-Profit organization that re-homes elderly dogs. These senior dogs have lost their humans through death or placement in a nursing home.

They started out in Rose Bay, near Lunenburg in Nova Scotia. Now they have Pawds stretching Across Maritime, Central and Eastern Canada.

It all started with the sudden passing of a sibling that left behind a senior dog with a health problem. Ardra, the founder of ELDERDOG, decided to take the dog home to her farm where he joined her animal family and lived out the rest of his natural life, loved and cared for just as his owner would have wanted. The realization that the concern people have about the welfare of their pets when they were gone was a widespread occurrence and was the brainwave behind the birth of the organization. ELDERDOG was born.

ELDERDOG also helps to keep Elder Dogs in their homes with their Elder people by providing many products and services required by an Elder person to keep their beloved dog at home with them. There is no charge for the services or products provided.

ELDERDOG takes in ALL senior dogs and fosters them out until a for-ever home becomes available. These dogs are sometimes sick themselves and on medications. They are quite commonly euthanized by the children or other family members of the senior owner, who don't have time or want the responsibility and often can't afford to look after them and decide the owner will never come back so the dog would be better off. I have heard that being said many times over the years and as I couldn't take every elderly or sick animal, many were put to sleep. This may seem really harsh but it is a reality of many senior pets of elderly people.

They need extra love and care as they are also grieving, and ELDERDOG makes sure they get it.

ELDERDOG provides food, healthcare, exercise and love for all their charges. Sometimes they find for-ever homes with another Elderly person that has lost their ELDERDOG.

HELP US TO HELP THEM. Fernie's Treat Shack is giving 100% of all their profits from sales of this Treat directly to the ElderDog Organization.

Help us to help the Seniors, Human and Canine.