Natural Dog Treats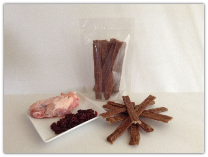 FERNIE'S
Treat Shack
Our products are all manufactured right here in Ontario with Ontario grown ingredients. All of our Meat Products are sourced through Government Inspected, Human Grade, Ontario Meat Packers, from Naturally Fed Antibiotic and Hormone Free Stock.

We use only the Best Human Quality Meat Products, Fish and/or Fresh Fruit to ensure the High Quality, End Product that you deserve for your pet.

As close to raw as we can get. Each protein requires its own dehydration cycle to maintain optimum product quality. It
is dehydrated at varying temperatures to retain 90% of its nutritional properties.

Tripe is the only product from Beef and Lamb that contains 100% of the nutrients required to maintain the good health of your pet. Dehydrated tripe makes an Extremely Nutritious, Delicious and Fat Free Treat.
The process we use to Dehydrate the Tripe also eliminates much of the Tripe smell.

We hope your visit to our website is an enjoyable experience.